Halo Ghosts of Onyx MA5K/Assault Carbine [gfx+sfx]
16 comments

Halo Ghosts of Onyx MA5K/Assault Carbine [gfx+sfx]
28.09.12 02:42:13 pm

10 like it!
264 kb, 119 Downloads
Majatek
User
Offline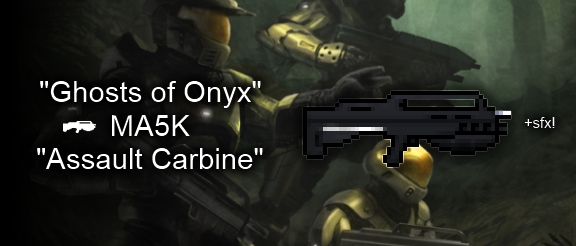 This replaces the TMP
After a semi-long hiatus (I've been working on a project with friends, all that I can say reveal now is that it is a top down shooter, that will in the end have multiplayer and a campaign. It will be set in the Halo universe, and will be featuring certain non-game weapons such as the MA5K. I'll shush up about that now :'3) I decided that I should break my absence with an example of the work that I do currently. The audio is completely scratch built, not recorded from anywhere else, built to sound like what the Battle Rifle would sound like if it was a "carbine" and fired smaller ammunition.
"Based on current-era tactical philosophy, it is believed that the MA5K version was produced specifically for Special Operations forces because of its lighter frame, which allowed for more quick maneuvering and less visible profile, which suits the requirements of commando missions well. This would make it well suited for Orbital Drop Shock Troops and vehicle crews as well, since it would not take up much room inside a vehicle."
You may distribute and use this as needed, free of charge, providing you do not:

Claim this work as your own

Sell this work

Reupload this work as is

This pack is not to be reuploaded in part or in whole within other projects. Edits of my work is also prohibited. Failing to head these warnings will earn you a report, and a possible ban.
>>>Created by

Majatek
(
- E-Mail address (visible to registered users only) -
)
As a final note, if your vote is based on size of the weapon, I will disregard your opinions. I have decided to keep skinning CS2D with skins that are similar in size to the default CS2D weapon skin resources.
-Possibly even get a mod to delete your review.
I hope you enjoy my work!

TO INSTALL THE MOD:
Simply open extract the "gfx" and "sfx" folders within the zip file to your CS2D directory.
Halo Ghosts of Onyx MA5K/Assault Carbine [gfx+sfx] by

Majatek
(
- E-Mail address (visible to registered users only) -
) is licensed under a Creative Commons Attribution-NonCommercial-ShareAlike 3.0 Unported License.

edited 1×, last 28.09.12 02:42:46 pm

This file has been reviewed and
approved
by
CY
(04.12.15 09:07:59 am)
Comments
16 comments


1


Log in!
You need to log in to be able to write comments!
Log in


1