[4th Era]FN FAL Assault Rifle Set
32 comments

[4th Era]FN FAL Assault Rifle Set
05.01.12 01:38:53 pm

18 like it!
571 kb, 341 Downloads
CY
Reviewer
Offline

Spoiler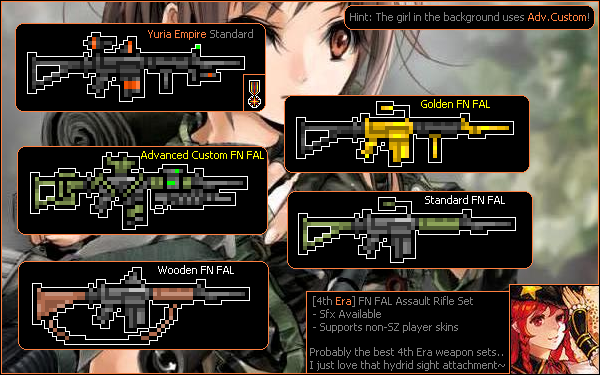 This is an assault rifle set.

Major Update!


I have totally changed my way to make weapon skins!
From now on, I shall make weapon skins by following
CS2D's standard size! Oh, there are slight
improvements on my hold and drop images too!

You have my permission to use my weapons in your mod but please inform me for this!
edited 2×, last 07.01.12 12:52:30 pm

This file has been reviewed and
approved
by
Seekay
(04.12.15 02:50:42 am)
Comments
32 comments
Log in!
You need to log in to be able to write comments!
Log in