Space Station 13
11 replies


1



Space Station 13
15.03.12 06:48:28 am

Space station 13 is about a station in space....Sounds calm enough? nope, the first thing you'll hear upon playing this game is the Head surgeon complaining about a doctor assaulting the detective outside his office, followed by suggestions of using the Toolbox or smearing shit on the detective's face, while next-door a maniacal monkey is setting some dude on fire with a burning plasma canister, before some dude complains about Sabbat being some power abusing dickface that's beating his ass off for cutting a camera and carrying a Cyalume sabre(Traitor Item), meanwhile, a clown is getting his face beaten by An engineer for no apparent reason
And it happens everyday
Space station 13 puts you in the Shoes of an Employee on a State of the art cutting edge station, it's all about the plasma, a flammable purple thing that will end up flooding the station, And no, you cannot breathe plasma, and even then, the air can be full of viruses and CO2 or even napalm in smoke form
However, the most important parts of SS13 are Captains, The Engine, Traitors and the hordes of useless Assistants that can turn into a seeking horde of murderous grey when you kill one of them
When you start, there are three options presented to you : "Setup Character", "Join Game" and "Observe", setup character allows you to setup a character, name, age, sex, hair type, beard, you name it, Join game is the most used option, it puts you in the game(There is another one, Declare ready, but it is only presented during the beginning of the game, the setup phrase), and observe, it basically turns you into a ghost that allows you to look around without the players even knowing you're there(No, before you get any ideas, you can't)
The Station is powered by an Engine, it is set-up by the engineers, so don't worry much about it for now, however, it might terrify you to know that the Engine is actually a bloody blackhole(AKA the Singularity), and when somebody yells "THE SINGULARITY HAS BEEN UNLEASHED", that's a cue to run in the opposite direction from engineering
Now, don't think about a calm, quiet station(The crew itself isn't), there are Traitors to deal with, they are there to cause drama in each round, and are randomly selected(Basically, Traitor is kind of like Mafia, you have to get the correct guy and anyone could be one, even the traitor is allowed to accuse others) and there are also the Syndicates, Marines in red suits, they come in squads to fuck the station up, they have a nuke, and they are here to get the Nuclear authentication disk, which is in the pocket of the Captain, the rank and file are just there to get in their way, only the Security and the Captain mean something to the syndicate, so don't think you're being targeted if you get your ass kicked by four dudes in red suits, should they get the disk, you're screwed, since they need the disk to activate the nuke(Yes, you heard right)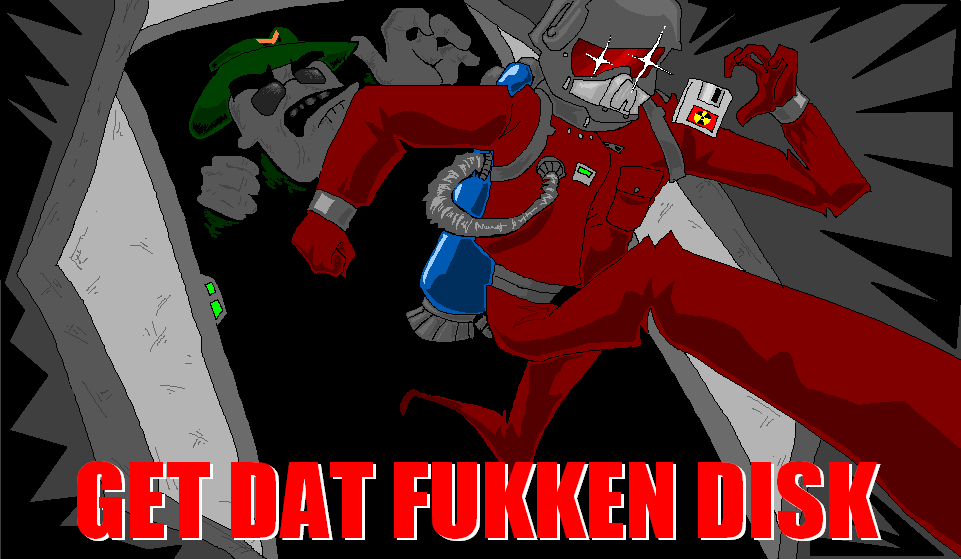 And don't think it's over, if you never thought that Technology and Magic had mixed, you're correct, for the WIZARDS are here, yes, Magic-throwing wizards that fling fireballs and electricity at you, your buddy, some random clown and at the station, they're here to simply kill(And steal a few shit), they can phrase through doors, go invisible, raise the dead, create golems and a whole bunch of other shit
And, there are the Changelings, these guys are basically traitors, but much different, your friend, he walked out the door for a while and returned, acting different, suddenly, when your back is turned, he spits neurotoxin at you, you can't move, you can't speak, he gets a hold on your neck and raises a probocosis : "Join Us", the Changeling can absorb DNA from his victims and TURN INTO THEM, which means that a changeling can easily change appearances, name at any time, keeping a record on one guy won't work, nor will tracking via name, oh, and they can turn into monkies, surprised?
And finally : Aliens, you know those movies where there are aliens with Facehuggers that inject some kind of parasite through a person's mouth, and then a Larvae bursts out of a victim's chest? this are the aliens you are fighting, they have a queen that lays eggs, the eggs create facehuggers, and the facehuggers attack humans be leaping on their heads, injecting a parasite, and then falling off dead, from this point on the person becomes a carrier, and has a developing larvae in his/her chest, and at some point, the larvae bursts out, and a new alien is created, the Larvae will grow to become an Alien soldier that will rip your face off, literally
and this ain't the end, there's a whole bunch of shit that can be either man-made or sheer random, for example, there's Zombies(Yes, Zombies) that the Virologist can make, or a random virus might get onboard that turns people into zombies, or meteors that can crash into the station seemingly suddenly(There is a warning, though)
However, through the death and destruction, there is a light : Technology has broken the line between life and death : When one dies, you become a corpse(Duh), you have a option to become a ghost but can return at will, now, you're thinking "I'm dead, log out and go get a drink", hold your ass, for you can be revived!, two ways actually :
You can be cloned, to make another You(Albiet with a few genetic differences, but that too can be solved), or your brain can be removed to become a MAN OF STEEL(a Cyborg), however, should you not wish to be revived, your body can still be used to help the station : You can be turned into burgers(yes......, you heard right), hell, your butt can be turned into butt-burgers(Correct, Buttburgers) and your brain? Brain-burgers, or the virologist can turn your body into a test subject(For some reason, space laws say that bodies can still cough, gasp, and react to viruses), and meanwhile, deadchat allows you to talk to other dead people, and possibly turn it into a bitchy argument about why you have been killed and why you shouldn't, and trying to yell at the captain that there's a invisible dude behind him with a gun
And while there is the flesh and blood side of the station, the living bunch, an other side of the station exists, the Mechanical side, the Machine equivalent of the Captain is the AI, and the Mechanical equivalent of the rank and file? Cyborgs, and supporting them are the legions of lesser robots : They are not controlled by a Player, but do not underestimate them : the Securitrons are the mini-security, the Medibots are the Mini-doctors of the station(And sometimes, they're better than a real doctor), Firebots are basically firefighters, miniaturized, meanwhile, the Cyborgs are human-like, but machine, they are different from humans : they can't pick anything up, and they have LAWS binding them : Asimov's three laws that prevent them from harming humans, but : the term "Human" can be changed, a law could turn "Human" into "Lifeform" and "Lifeform" into "Human", they also have to follow all orders from humans, Except where it violates law 1(Which protects humans), and their final Default law? law 3, Which states that they have to protect their existance as long as it does not violate law 1 or 2, but ofcourse, humans can change the laws to suit themselves, but where you upload them, AI uploads, is high priority and protected, you can be arrested for trespassing and altering laws without permission just for being there
However, do not underestimate the AI, while they are bound by laws, it does not stop them from locking your ass up, and they can also shock doors, but they're for harming lifeforms, they cannot shock doors used by humans unless if a law says "nobody is human", or "%name% is Non-human" and the AI has been ordered to kill %name% by a human
There exists millions of things one can do, you just have to find them out yourself, should you need any help, ask ingame, or use the Wiki :
http://ss13.donglabs.com/index.php?title=Main_Page
And finally, it ends
Spoiler

edited 3×, last 21.04.13 03:53:52 am
Back in business, and I'll try not to be the Enigmatic asshole that i used to be....I hope

EngiN33R
Moderator
Offline

Yes, it's an interesting game. I play occasionally on the /tg/ server. It can be frustrating at times, but also very fun to play.
I code, therefore I exist. | Visit my
blog
for Lua tips and other interesting info

You don't happen to be Engineer Redict, do you? if you are, Hi, Your engineering skills are horrible(I mean, unleashing the singularity 5 minutes in?)

If you ain't, sorry, but still, hey, Clowns are still being abused, no?
Back in business, and I'll try not to be the Enigmatic asshole that i used to be....I hope

EngiN33R
Moderator
Offline

No, I'm not. I'm yet to see a clown who's actually not playing cruel jokes on people but actually produces fun though.
I code, therefore I exist. | Visit my
blog
for Lua tips and other interesting info

Cruel jokes? i'll let you see if these are cruel jokes :

Placing banana peels infront of open airlocks to slip people into space

Using space lube to make the engineers slip right into the Singularity

Using water to fuck up security chasing after a Syndie with the disk

Screwing a Borg's wiring(Read : Emagging) to make them fight the station

Uploading HONK laws to the AI

Somehow killing the captain with a bike horn

Spreading Necrotic Degeneration throughout the station

Messing with barricades that ensure after spreading Necrotic degeneration all about

Unwelding the vents in an Alien round

Stealing shit from chemistry and setting the station on fire
Back in business, and I'll try not to be the Enigmatic asshole that i used to be....I hope

pupp3tStudios
User
Offline

That sounds like a fun time.

And all this stuff happens every day at that station..
I'm gonna try it one day.


Big Bang Mafia
User
Offline

hey i'm playing this with ''Byond'' love that game!
I'm back.

Time
User
Offline

Sci-Fi Postal (now rage at me for whatever reason)

Big Bang Mafia
User
Offline

I'm back.


Time has written:
Sci-Fi Postal (now rage at me for whatever reason)
Actually, it IS a Sci-fi 2d spacemen version of Postal, just that the violence doesn't happen directly and in-your-face, you might never notice it, but the station can easily degrade into nothing but Poo, piss, Homicidal chefs, "Doctors" that inject not-medicine into their patients, A Science team that has only one purpose : Burn the station, and the Syndies turn from evil space marines that want everybody dead into Mercy-killers trying to release the poor souls trapped on the station
Edit : Well, Ladies and Gentlemen, with the debut of Space Station 13 on PC Gamer Magazine, although it was short, this may just be the perfect time to resurrect this thread from the grave of the dead
Several fixes and additions have been added to the main Post, For now, Enjoy
edited 1×, last 21.04.13 03:33:52 am
Back in business, and I'll try not to be the Enigmatic asshole that i used to be....I hope

Ahmad
User
Offline

Shit. You wrote all that?
You know no one is gonna read it right? ;o

dumbeldor
User
Offline

wow the screen shot looks great where can i get the game


1