Is there any way to not get flashed?
6 replies

1


Is there any way to not get flashed?
17.12.17 06:38:29 pm

Briggies
User
Offline

ive tried turning around but it seems like getting on cover is the only way...


Waldin
User
Offline

download some hacks mate

DC
Admin
Offline

@

Briggies
: That's right, turning away won't help. I decided to make turning away useless because it would be too easy in a top-down 2D game.
So yes, hiding behind walls / getting out of range is the only effective way not to get flashed.
Oh, and please don't listen to

Waldin
...


1uP
User
Offline

www.cs2dcheaterinhos.net
After download this you'll get no flash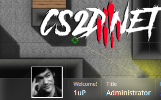 SkrillexBangarang
User
Offline

dont ever hack ;p otherwise it will make bad situations

KDMRL
User
Offline

if you cheat, then

SQ
: will hire some bad guys to make your a-hole a worming hell...

Rainoth
Moderator
Offline

You could code it so that all flashbangs get replaced with grenades that look like flashbangs but flash player only when he's looking. Not too hard to code that lua script.

1