CS2D Lighting Development Blog
48 replies

Poll
What should be most important aspect in new lighting update?
Only registered users are allowed to vote
| | | |
| --- | --- | --- |
| Day & night cycle | | 39.39% (26) |
| It should run faster than previous version | | 24.24% (16) |
| No memory leaks and similar issues | | 16.67% (11) |
| Flashlight and other texture based light effects | | 12.12% (8) |
| No map size restriction | | 7.58% (5) |
66 votes cast

@

VADemon
:
That's why there are many options for that. "Shadow Light Brightness"

Pagyra
User
Offline

I think it would be nice to do more:
* add non-standard tiles (angular, round, rhombic, ...)
* add z coordinate for all objects, images and effects and etc
* add Lua command to change mode of level (height) of image layer
Fighting for peace is like screwing for virginity.

Hibiti_BY
User
Offline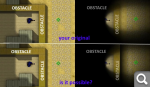 Then how it look if there would be flashlight from another side?

Yates
Reviewer
Offline

A flashlight does what a flashlight does, it gives light. So that shadow behind the obstacle would ruin the feel of the flashlight, and that it of course is totally unrealistic.

Goo
User
Offline

env_object does not support light engine
(Alarm, Street Light, Street Light Flicker)

sqpp15
Super User
Offline

@

Goo
:
Yeah, i already told to Simonas these stuff. He will fix it later.

VADemon
User
Offline

@

Yates
: But it's still an obstacle you can't easily jump over, so I say there still must be a shadow, a softer one (shorter + less opaque).