ESL 5on5 CS2D Tournament
10 replies

1


ESL 5on5 CS2D Tournament
31.01.15 01:43:39 pm

Hello!
There is no info yet on ESL site, though I can already say that we will have a 5on5 tournament soon in ESL. After our small success with 1on1 Cup, ESL decided to give us more chances and more fun.
Possible maps for upcoming tournament (the format is not yet known, that's why there are few possibilities) :
Spoiler

It is probably going to be a 2 day cup (first rounds on Sunday, semi-finals and finals on Wednesday/Thursday).
To give you more info, I will have to contact ESL admins and simply wait. I created this topic to let you know already that we will have such kind of a tournament in upcoming days, so you can create your teams on ESL page and let your members in, for faster registration in the future.
GL & HF to all those who'd like to play a lil' bit of competitive side of 2D


Goodluck for all teams, may the best win

.
"Nothing to fear and nothing to doubt."

Fraizeraust
Moderator
Offline

Uh, this will be a big tournament, good luck to all participants.


It's kinda late because ESL admin had some technical problems, but the tournament (alongside with registration) will be opened in upcoming days, maybe even within next 48 hours.

I've also got the confirmation of BO3 format.

Gonna be good to see this happen.
"Nothing to fear and nothing to doubt."

This are my news copied from cs2d.net regarding upcoming ESL tournaments. @

DC
: if you could somehow inform people in-game (USGN MSG) about this topic, competitive side of CS2D would be so grateful.
I don't really know how to even begin writing this news, because there is going to be so many competitions in ESL. I will try to give you the most valuable info right in this post. Let's kick off with upcoming 1on1 Community Cup #3
1on1 Cup - One day event
2on2 Cup - One day event
5on5 Cup - Longer Tournament
1on1 Cup - Longer Tournament
----------------------------------------------------------------------------------------------------------------------
There are 2 news regarding our tournaments on ESL site, so if you'd like to read them, click link below :
http://play.eslgaming.com/new-games/pc/
I'd like to say that every tournament will be played with MOSS. Sorry for all mistakes, it's really late already and it was a hell lot of work to pull it off for CS2D to be in ESL.
GOOD LUCK AND HAVE FUN !

I hope with this tournaments the community will start growing more soon ;).
Gl for all.
"Nothing to fear and nothing to doubt."

1uP
User
Offline

it will be funny since moss is garbage, anyways, it will be rlly nice, i will stay there gl everybody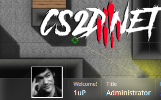 Steru
User
Offline

Wow nice

GL to registered users today


Hajt
User
Offline

Yooo. We are playing mix matches 5on5 in evening hours on the server CS2D.TK | Mix/Match, you can join us, server password is
match
. Statistics, leaderboard can be found under the following
link
.

1