RuneScape Dragon Dagger
9 Kommentare

RuneScape Dragon Dagger
07.02.18 18:50:33

9 mögen es!
3 kb, 34 Downloads
ruistan
User
Offline

Dragon Dagger (Normal Version)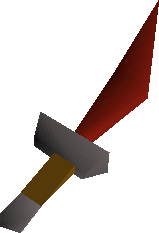 Dragon Dagger (Poisoned Version)


The file Contains two versions of the RuneScape Dragon Dagger.

Replaces Knife
Rules

You can use it

You cant say its made by you

TO INSTALL THE MOD:
Simply open the *.zip file, and then extract the "knife.bmp" and "Knife_k.bmp" file to CS2D\gfx\weapons.
RuneScape Dragon Dagger by

ruistan

1× editiert, zuletzt 07.02.18 18:51:51

Diese Datei wurde geprüft und
zugelassen
von
Sparty
(08.02.18 01:36:46)
Kommentare
9 Kommentare

1

Logge dich ein!
Du musst dich einloggen, um selber Kommentare verfassen zu können!
Einloggen

1