Halo 4 Squad Automatic Weapon (SAW) [gfx+sfx]
12 comments

Halo 4 Squad Automatic Weapon (SAW) [gfx+sfx]
31.08.12 12:07:12 pm

12 like it!
160 kb, 164 Downloads
Majatek
User
Offline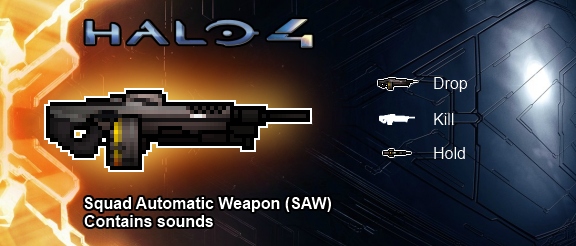 This replaces the M249
Worked on this immediately after the T-51 Carbine, so I worked over the past 2 days on and off because I wanted to be the first one to make a skin of it, I guess. It includes not only the usual quality of work you'd expect of me, but also the official sounds that the Halo 4 SAW will sound like (The audio was rebuilt from splicing the audio of several sources for the fire sound so as to be as close in terms of accuracy to the real thing).
SAW stands for squad automatic weapon and is used in protracted engagements where sustained or suppressive fire is required.
The concept dates back to the interregnum between the First and Second World War on 20th Century Terra, where the suppressive fire of a machinegun was mixed with the mobility of an infantryman. SAWs were introduced to mid-20th Century fireteams, where a single soldier may theoretically suppress an entire enemy fireteam with his weapon, thus freeing his teammates to flank and destroy the enemy.
You may distribute and use this as needed, free of charge, providing you do not:

Claim this work as your own

Sell this work

Reupload this work as is

This pack is not to be reuploaded in part or in whole within other projects. Edits of my work is also prohibited. Failing to head these warnings will earn you a report, and a possible ban.
>>>Created by

Majatek
(
- E-Mail address (visible to registered users only) -
)
As a final note, if your vote is based on size of the weapon, I will disregard your opinions. I have decided to keep skinning CS2D with skins that are similar in size to the default CS2D weapon skin resources.
-Possibly even get a mod to delete your review.
I hope you enjoy my work!

TO INSTALL THE MOD:
Simply open extract the "gfx" and "sfx" folders within the zip file to your CS2D directory.
Halo 4 Squad Automatic Weapon (SAW) [gfx+sfx] by

Majatek
(
- E-Mail address (visible to registered users only) -
) is licensed under a Creative Commons Attribution-NonCommercial-ShareAlike 3.0 Unported License.

edited 1×, last 31.08.12 12:08:05 pm

This file has been reviewed and
approved
by
CY
(04.12.15 09:08:03 am)
Comments
12 comments

1

Log in!
You need to log in to be able to write comments!
Log in

I like it!

Pseudon
User
Offline

Nice,i will use it.

I like it!

DevGru
User
Offline

This gun is awesome because the body parts are changed and it still looked like M249 (it the one that it replaces). I wish

CY
's weapons have the same technique too.

I like it!

Sparty
Reviewer
Offline

fucking awesome!!
gimme your next skin


Nice Stuff
01.09.12 07:20:14 am

I like it!

supermouse
User
Offline

need more!

Amazing.
31.08.12 05:04:05 pm

I like it!

Happy Killer
BANNED
Offline

More Halo stuff, sir.

I like it!

Seekay
Reviewer
Offline

I came.


Jk, but good enough.

I like it!

hobo man445
User
Offline

looks amazing

Awesome as usual.
31.08.12 01:24:33 pm

I like it!

CY
Reviewer
Offline

You should make some sprites from Halo 4.

I like it!

Suprise
BANNED
Offline

Not bad, not bad

I like it!

Insanity
User
Offline

Kewl gun.

Yay, first download!

I like it!

Krimhorn
User
Offline

I love this HALO weapon series. Keep up!

I like it!

Jynxxx
User
Offline

It looks good. Like!

1